Nikalas Biography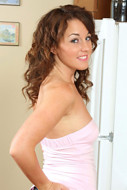 Basics:



Name: Nikala
Where are you from? United States
School, Work, Play, Hobbies
How far did you make it in school? I graduated high school.
What do you like most about school? The boys.
Do you get good grades? I made mostly As and Bs.
Do you have any other jobs besides modeling? No.
Did you ever have sex with a boss or coworker? Only for a porn video.
Do you play any sports? I played softball for awhile.
Dreams Ambitions Goals
What is your dream occupation? I am cool with modeling for now.
Personality / Character
Did you have a nickname when you were younger? Niki.
A large social circle or smaller closer friends? About average.
What is the naughtiest thing that youve done with your friends? I have made out with my friends at parties and have had some bi sexual experiences with them.
What scares you? Big dogs.
Do you have a favorite color? Green.
Do you have a favorite movie? Lucky Number Slevin
What actor/actress do you think is really hot? Josh Hartnett.
Are you a party girl? Yes, I love to have fun sneak in a few drinks and dance all night.
What is your favorite drink? Lemon Drop Martini
What is your favorite animal? Hummingbirds, they are so pretty.
Life Experiences
If you could travel anywhere, where would you go? I would chilllax on a beach in the Bahamas.
What is the best advice youve ever been given? All you have in this life is yourself, so make sure you take care of number one!
Sexual
What do you like best about your body? My boobs.
Do you have a boyfriend? No.
What do you look for in a guy? I like older guys, they tend to be more experienced. I also like a guy who is taller and who can make me laugh and has a good sense of humor.
What kind of girls do you like? I like girls who are fit and like to have fun.
What was your first time like? It was pretty awkward but it got better the next couple of times.
How often do you get laid? Whenever I feel the urge, I have booty calls a phone call away.
Where do you meet a lot of guys? I meet guys at clubs, parties, stores, pretty much everywhere.
How many girls have you been with? 4 or 5.
Do like to give or get head? I prefer giving head especially with a girl but I dont mind receiving either.
Have you ever tried anal? No way! About the only thing that is ever going in my ass is a finger and thats pushing it!
When you are with a girl do you like to lick or be licked? I would rather do the licking.
How many orgasms have you had from one sexual experience? 1 and I am done.
How old were you when you started masturbating? 14 years old.
How did you get started? Im not sure I just kind of realized that touching myself felt good and thats all I needed to know.
How many times a week do you masturbate now? A lot!
What do you think about when you play with yourself? I usually just think of a hot sexual experience that I have had and I visualize it until I cum.
Do you use toys? Yes, I have a trusty vibrator in my dresser drawer.
Where is the strangest place you ever had sex? I had sex in the girls bathroom my junior year in high school and got caught by a teacher, thankfully they didnt call my parents!
Do you like to be spanked? Yes.
Does size matter? No.
Do you get turned on in front of the camera? Yes, it always makes me wet.
What is your favorite sexual position? Doggystyle