Marcys Biography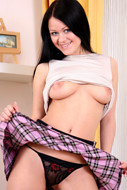 Basics:



Name: Marcy
What country do you live in now? Russia
School, Work, Play, Hobbies
How far did you make it in school? High school
What did you like most about school? I had a super hot Biology teacher.
Did you get good grades? They were mixed, depending on how much I applied myself.
Do you have any other jobs besides modeling? No.
Do you play any sports? I just exercise at the gym every other day.
Dreams Ambitions Goals
What is your dream occupation? I am doing it now and when I cant model anymore I plan on having my man take care of me.
If you could travel anywhere in the world where would you go? Las Vegas, I am a great poker player!
Personality / Character
Did you have a nickname when you were younger? Bunny.
A large social circle or smaller closer friends? I have a big circle of associates and then I have my 4 best friends.
What is the naughtiest thing that youve done with your friends? When we go out we dance together and make out the guys love it and we get all of the attention.
What scares you? Bees.
Do you have a favorite color? Black.
What is your favorite television show? House.
Do you have a favorite movie? Sweeney Todd: The Demon Barber of Fleet Street.
What actor/actress do you think is really hot? Helena Bonham Carter, i loved her in Sweeney Todd and Fight Club she is sexy in a dark sort of way.
Are you a party girl? Yes.
What is your favorite drink? Absinthe.
What is your favorite animal? The Snowy Owl, it is a beautiful bird and just as nocturnal as myself.
Life Experiences
If you could travel anywhere, where would you go? Stone Henge, it is a mystical place shrouded in mystery.
What is one thing you are proud of? Im proud of my father he has been sober for 2 years.
Sexual
Do you kiss and tell? No.
What do you like best about your body? My eyes.
Do you have a boyfriend? No, I prefer the freedom of being single.
What do you look for in a guy? I like dark goth types, who are mysterious, I tend to date musicians allot when I do date.
What kind of girls do you like? I like girls who dress sexy, in corsets and in goth themed lingerie, I also love the pin up look.
What was your first time like? I was really, really drunk I couldnt tell you.
What happened? It was at a party thats all I know.
How often do you get laid? 4 or 5 times a month.
Where do you meet a lot of guys? Underground clubs, and concerts.
How many girls have you been with? 7
Do like to give or get head? Yes.
What is your favorite position? When the guy holds me up in the air and bounces me on his dick or being thrown against the wall.
Have you ever tried anal? Its not for me.
How many orgasms have you had from one sexual experience? 5 or 6.
How old were you when you started masturbating? 14.
How many times a week do you masturbate now? I masturbate 3 times a day unless I have sex.
What do you think about when you play with yourself? Rough sex, hair pulling choking….
Do you use toys? Yes.
Where is the strangest place you ever had sex? On a table in front of my best friend and her boyfriend, they wanted to watch.
Do you have any sexual fantasies? I have many sexual fantasies most of them involve sex in a public place.