Kinzies Biography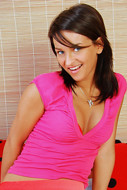 Basics:



Name: Kinzie
What country do you live in now? Poland


How old are you? 18



School, Work, Play, Hobbies
How far did you make it in school? Thankfully, I just finished high school!
Are/were you a good student? I was an over achiever and did pretty well in everything except for all the math courses.
Did you ever get in trouble in school? Yes, I am a wild one and I was always in trouble for speaking in class when I was supposed to be paying attention.
Do you have any other jobs besides modeling? No.
Do you play any sports? Basketball, and I was on the swim team.
How do you spend your free time? Partying, going to clubs, swimming, staying outdoors.
Dreams Ambitions Goals
What is your dream occupation? Modeling for now and I am not really sure yet what I want to do for a career in the future.
What do you feel you deserve? Money, money, and more money, oh yeah, and endless orgasms!
What are your plans for the future? I am not sure yet, I will figure it out in a few years.
Personality / Character
Do you have many friends? I have one best friend and I consider everyone else an associate, I have trust issues.
How would you describe yourself? I am outgoing, full of surprises and full of energy.
What scares you? Idiots that dont know how to drive.
Do you have a favorite color? Green.
What is your favorite television show? Idol
Whats your favorite book? Dare, Truth, or Promise by Paula Boock
What kind of music do you like? Hip Hop and Pop
Whats your favorite drink? Vodka and orange Juice with a splash of Pin apple juice
Life Experiences
If you could travel anywhere, where would you go? Australia, I love the sunshine and the outdoors, its the perfect combination of both.
Whats the best advice youve ever been given? You live and learn and then you die and forget it all.
Is there anything in your life you would like to change? Not exactly in my life, but I would like to change the world and make it more peaceful, but somehow I feel this may be an impossible task.
Sexual
Do you remember your first kiss? Yes, I was in a school play and I had a crush on a boy who played the lead role, we were backstage by ourselves and i pulled him close to me and gave him a kiss, he turned bright red and pushed me away I was so embarrassed. It turns out he is gay now, who knew.
Whats your favorite part of your body? My ass, I get lots of compliments.
What sort of panties do you like to wear? Thongs, they show off my butt and they dont leave panty lines.
When did you start developing into a woman? Around 13 years old.
Do you have a boyfriend? No, Im too young for a serious relationship.
What do you look for in a guy? I am pretty tall so I like a guy who is at least as tall as myself, and he has to be funny because I love to laugh and I have a great sense of humor.
How many girls have you been with?1
What is your favorite position? Doggystyle.
Do you like anal sex? I havent tried it yet.
Do you like to give head? Yes, I am excellent at deep throating, no gag reflex =)
Do you like getting licked? Yes, its a wonderful thing.
How many orgasms have you had from one sexual experience? 4
How old were you when you started masturbating? 14
Do you masturbate much? Yes, I masturbate every day, I have too or I will go crazy.
What do you think about when you play with yourself? Different things every time, but I usually just pop a porno into my dvd player and watch it.
Do you use toys? Yes, I even named my favorite one Mr. Happy.